We find ourselves scrolling through Pinterest or Instagram, but how can we confirm what the definitive interiors trends of 2020 are?
Rattan – Natural Materials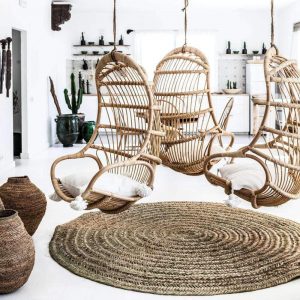 Made popular in the 1970s, rattan and wicker is having its revival and it's not doing it quietly. If you spent two minutes browsing home decor retailers like Homesense and Dunelm, you're guaranteed to see an array of gorgeous chairs, benches, lampshades, baskets, the list is endless. The rise in popularity of this natural colour and textural style recently caused H&M Home to sell-out of their iconic cane-webbing chairs, the demand is so high they can't be restocked quick enough.
Want to feel like you are holiday? Why not decorate a bedroom in this incredible Riad theme?
The best thing about this trend is that it fuzes perfectly with rattan, wicker and weave. You'll find the best rattan lampshades you've ever seen in the souks of Marrakech, if only they could squeeze into hand-luggage. By combining riad ritual, wicker or weave and throwing in a few touches of gold you'll inevitably feel like you're chilling in a chic version of a Moroccan palace. This trend transitions smoothly from inside the home to outside into the garden. During Summer you could throw a flatweave rug and some embroidered cushions onto your decking leaving you with an idyllic African picnic scene.